About pirates, you might picture the scary man on the boat waving a flag with a skull and crossbones. who would have imagined that the name that comes to mind isn't Blackbeard pirate Edward Blackbeard, pirate admiral Henry Morgan, or pirate knight Sir Francis Drake? It is believed that "Ching Shih Female Pirate Captain" was a historical figure who led a band of pirates who controlled the South China Sea.
Qingshih was known as a legendary great pirate. not merely because she is female. However, the South China Sea waters have been shaken by her influence. more than 1,800 pirate ships and 70,000 thief's henchmen make up the pirate fleet.
BEGINNING
Qingshih was born in 1775 in a small hamlet in Guangdong Province, there is little information about her past as a pirate. Her name, Qingshi, is Mandarin and means "Ching's Widow" or "Widow Qing," as she was afterward known.
She was compelled by poverty to become a prostitute to support her family. Children at the same age back then experienced the same thing. She operated in floating brothels known as "Saranrom boats" (Flower Boats), which sailed alongside the coastlines of various locations, and was recognized for both her stunning beauty and the rumors of her first-rate service. As a result, Qing Shih is well-known on a global scale.
THE FIRST STEP TOWARDS THE "LEGENDARY PIRATE WOMAN"
Zheng Yi, the commander of the Red Flag Fleet, decided to meet Qing Shi because of her fame.
Rumor has it that Zheng Yi asked her to marry him in exchange for giving Qing Shih She half of all his property. and demanded the ability to command a fleet of pirate ships at once, to which Zheng Yi consented without making any conditions given her wit and intelligence.
However, there is a different claim that She was abducted and forced into marriage by his servant Zheng Yi.
Regardless of the reality, the two of them eventually got together. And this served as her base of operations for the fabled Asian female pirate.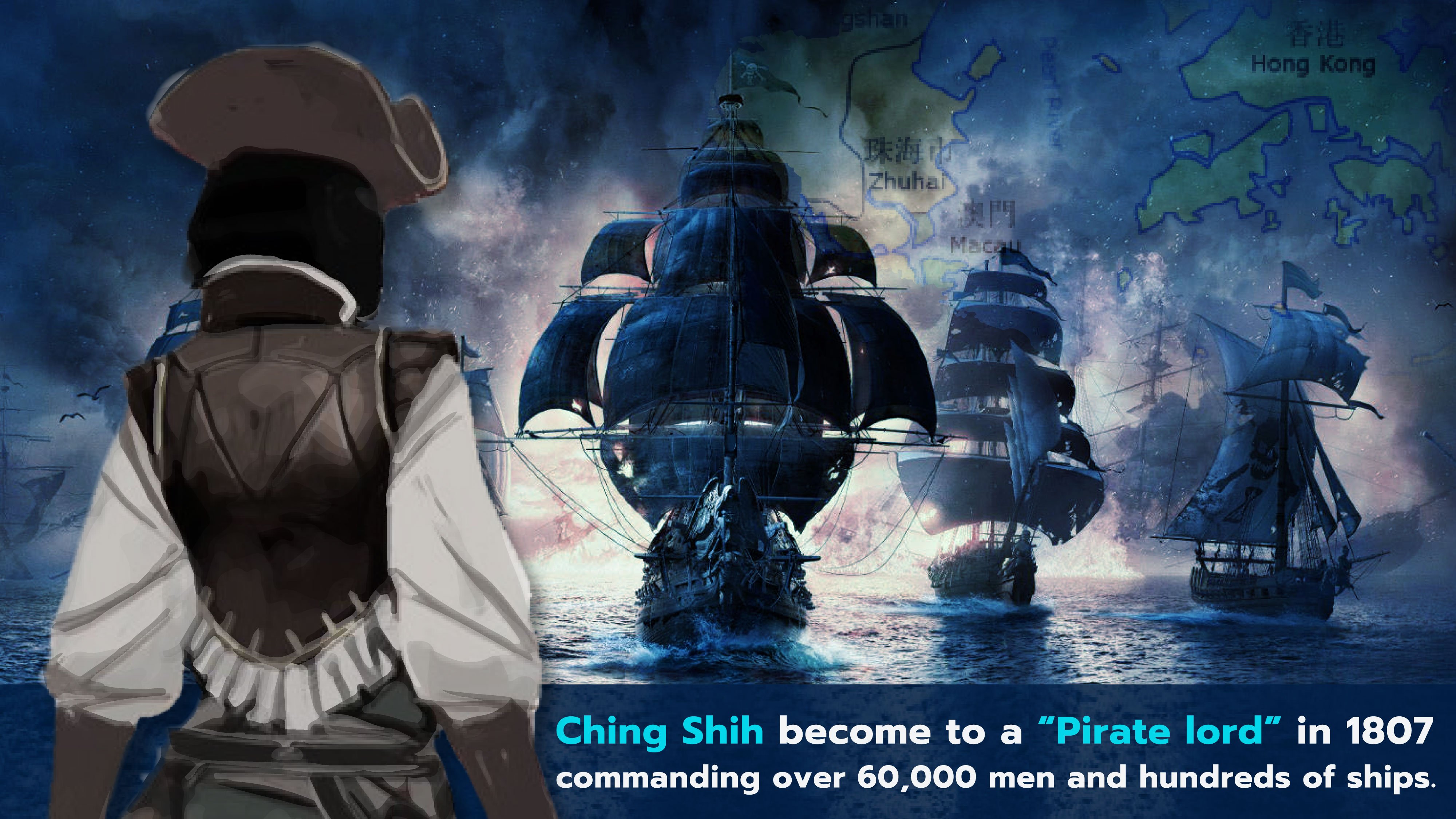 THE PIRATE PATH OF QING SHIH
In a matter of a few months, the pirate army led by Zheng Yi and Qingshih had grown in power throughout the South China Sea. The Red Flag Pirates had a fleet of 1,800 ships and more than 70,000 pirate crews when they emerged from joining a collection of large and small pirates.
An unexpected change of events occurred in 1807. She lost her husband in the hurricane. resulting in Cheung Po, his adoptive son, supporting Qingshih as the commander of the pirate army.
Even though Qing Shih was merely a woman, she had a powerful influence on pirates. The rules are really strict. taking control of all the pirates without opposition.
Anyone who disobeys the order shall be beheaded immediately and without a trial, per established rules. She signed a decree outlawing the rape of female inmates. If you desire to wed any woman simply needs to get consent. They must be true to their spouse; if they are caught cheating on their spouse, they will be put to death. It is necessary to verify even the stolen property first. The body will be amputated as punishment if the embezzlement is discovered.
No one dared to oppose the Red Flag Pirate Army as Qingshi's magnificence vastly increased its domain. Even the British Empire shied away from engaging her army in battle. She was able to overpower the Royal Navy dispatched by the Chinese Emperor in a matter of years. and purchased about 60 royal boats
The Chinese government favors this ceasefire. Reps were dispatched to negotiate an offer of amnesty for all pirates in exchange for their surrender. But Cheng Bo and Qingshih insisted that their offer be accepted. When the two got married, the pirate wouldn't have access to all of their possessions.
In 1810, an agreement was finally reached that gave the pirates the freedom to resume their lives without fear of capture. Cheng Bo, her new spouse, joined the Navy. and she was referred to as "Lady Qing"; she was the long-lost pirate captain Qingshih.
PEACEFUL END
Cheng Bo passed away while performing his duties in 1822. Qingshih relocated to Macau with her kids. She established a casino and a brothel there. She led a humble life until her death in 1844 at the age of 69, when she died away quietly surrounded by her family.
Future generations will have a magical tale that Qing Shih left behind. A prostitute became a fearsome female pirate leader. which still has a peaceful resolution and commands the largest pirate fleet in the world.
One of the lessons we learned from her was
'If a woman decides what to do then Nothing can stop her.'
refer